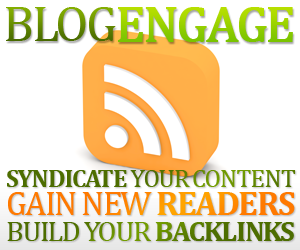 BlogEngage, as the name says it all. Its a popular and an active bloggers community founded by Brian Belfitt in 2006. At BlogEngage, you can promote your blog contents with other members who have similar niches of blogs.
According to Google's Ad Planner, the site receives an estimated unique visitors of 50K to 70K, with an Alexa rank of 8K and PR5. Imagine the exposure your article would get with theses stats.
Moreover, the site is dofollow enabled. This means you can build quality backlinks for your blog with a page rank of 5.
The site looks easy to navigate around. You first need to sign up for a BlogEngage account and then submit your blog articles. You have to do this manually every time you submit an article. However there are some Premium services that does the article submission automatically and many other added features.
Whenever you submit an article, other user will vote your article, if they found it interesting. The more research you do on your article, the higher votes will it receive. No matter if its 250 words or 500+ words, the article should be unique and well written if you need more votes.
Whenever you submit an article it will be displayed on the upcoming page. As soon as your article goes popular with higher number of votes, it will be displayed on the Published page and also it will be tweeted by Brian to its followers. You can see the FAQ page for more info.
What's in the box for Premium users?
Premium users have added benefits then free users. The premium service helps you to promote your articles more easily with the help of auto RSS syndication. The RSS syndication lets you to save your valuable time by automatically promoting your content more in front of readers. This means more exposure and more traffic to your blog.
The RSS syndication has three membership packages. It requires one-time membership fee of $29.99 needs to be completed before purchasing any RSS services package or joining the network. But if you are already a member of Blog Engage, then there isn't a service charge. See the chart below:
| | | | | |
| --- | --- | --- | --- | --- |
| | Business PLUS Membership | Business Membership | Platinum Membership | Gold Membership |
| Free Blog Engage Accounts ($29.99 Value Each) | | | | |
| Featured Spotlights | | | | |
| Giveaways (1 Free Year Gold Membership Value 59.88) | | | | |
| Syndication to the BloKube community (1 feed) | | | | |
| Add Unique Blog Feeds | | | | |
| Add Niche Categories | | | | |
| syndicated into the Blog Engage community | | | | |
| 100% Adsense Revenue Sharing | | | | |
| Free E-Book | | | | |
| | | | | |
Get Back what you pay!
There's always some outcome wherever you invest your money. Who knows, you might get double of what you invest in! At BlogEngage, there are two ways you can get back of what you invested. You can cover up the membership fee by using the 100% Adsense Revenue Sharing program or the Affiliates program. The Affiliate program is called as Affiliate Lights [Sign up here]. You can get great payout rates from affiliates, if you effectively market BlogEngage RSS syndication services.
Benefits of Joining BlogEngage.
More traffic and more exposure.
Get in the spotlight by being an active member.
Follow other bloggers and connect with them.
Get more ideas by reading other user articles.
Participate in contest and giveaways.
Dofollow backlinks for every post submitted.
Automated submission of articles [Premium service]
One free vote for every article [Premium service]
Adsense Revenue Sharing [Premium service]
Syndicate multiple blogs [Premium service]
BlogEngage makes it easy to build your community and reach your readers in your niche. There are many more similar communities, which can help you in building your blogging career. Do share your experience about BlogEngage and if you haven't joined yet, you should not miss this great opportunity. Join BlogEngage now.